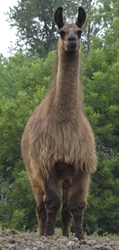 Lost Creek Dunc'n Hawk
ILR # 291712
male b. 06-06-2018
click on the photo to see more pictures of Dunc'n on ipernity
Dunc'n is a stout and sturdy fellow — 31.3 lbs at birth — and shockingly reminiscent of paternal grandsire Gold'n Hawk in his brillo-pad guard hair, color, heavy build, ears, head, and disposition. In addition, Dunc'n has Sage's excellent gaits with an even better natural trot. Dunc'n's total package oozes "harness potential" and has Gwen drooling over the possibilities. Despite Gwen's attraction to him, Dunc'n is not a natural "people llama" and his preference in humans is "none of the above" ... but he's sloooowly comig around.
Dunc'n's coat looks like it is going to be longer than we have found to be desirable from a functional working perspective. For that reason, we expect to castrate Dunc'n when he's old enough ... although we will definitely give him every chance to prove to us that choice would be wrong. The rest of the package does appear pretty compelling.
Because we are in desperate need of one or two working and "trainer" geldings, Dunc'n is under evaluation for retention even if castrated, and if he continues to "ooze harness potential", he is likely to make the cut. But there's no telling what life may bring in the future, and for now we are just enjoying Dunc'n's outlook on his new world ... and his interactions with agemates Cynamon and Carhartt.
"Duncan" is a Scottish name from two words meaning "dark or brown" and "battle or warrior." Dunc'n is a very dark color, and his mom had a battle to birth him (a very long labor culminating in dystocia, in this case both front legs needing repositioning). Dunc'n's resemblance to Gold'n Hawk was unusually striking from the start, and we were compelled to find a name that referenced his beloved paternal grandsire — Dunc'n Hawk fits perfectly.