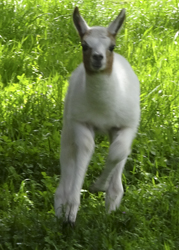 Lost Creek Ranger Finn
ILR # 296387
male b. 04-27-2022
click on the photo to see more pictures of Finn on ipernity
Finn is a very self-controlled and mellow fellow with an outstanding Classic coat. His gaits are correct and his movement strong. He also has that rare innate knowledge that there's a time and place to let his energy loose. We expect Finn to not only be a fine packer for the right someone, but a valued companion as well.
Finn will be castrated before sale.
Finn can be short for several names in Gaelic languages; it's also the Anglicized spelling of Fionn, the male version of Fiona. The meaning is usually "fair" or "white", and those definitely fit Finn's appearance — white with light markings.