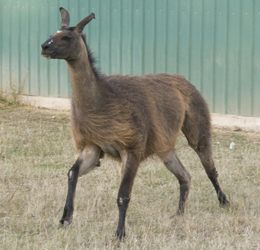 Eagle's Nest Graehawke
ILR # 267116
female b. 7-18-2003
Gold'n Hawk x Green Valley's Picabo
click on the photo to see more pictures of Graehawke on ipernity
Graehawke stands a solid 46" and has shown herself to be a good athlete. She's not the kind of llama who seeks out interaction with humans.
Graehawke has an exceptionally nice Classic coat — the epitome of the "old kind" with an undercoat that grooms out almost entirely with a slicker brush and with no objection from the llama. That's just the icing on a strong and straight body; level head most definitely included.
We had long wanted a Gold'n Hawk daughter with Gold'n Hawk's excellent classic coat, logically-inclined nature, and stupendously heavy muscling and bone along with the other physical, temperamental, and genetic traits that we insist each of our breeding animals embody. Graehawke fits our desires to a "T" ... a dream come true! Unfortunately, Graehawke had been bred to two proven studs several times and although testing pregnant, Graehawke produced nothing. So much for dreams.
In early 2011, our veterinarian did diagnose a herd-wide subclinical selenium deficiency that, after treatment, is proving to be the cause of many of our females successfully conceiving but then losing pregnancies during the last few years. We had given up hope, but armed with that new information, we invested in a reproductive exam for Graehawke, which did not turn up any abnormalities. Subsequent correction of magnesium and iodine deficiencies has also improved reproductive success here, and it has also put Graehawk's cycling back to normal ... but her confirmed-via-ultrasound (complete with beating-heart embryo) pregnancy did not carry to term.
Graehawke's name reflects both her color (grey-brown, or dun) and her sire (Gold'n Hawk, who goes by "Hawk").