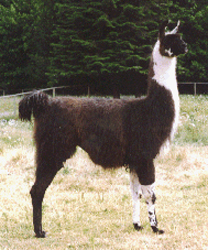 Lost Creek Three Fingered Jack
ILR # 116783
gelding b.12-4-93 ... d.6-1-99
Jack was a strong, athletic fellow set on proving that great things do so come in less-than-giant-sized packages. He finished at 44.5" at the withers, and weighed in the neighborhood of 265 lbs. Jack was gelded at 15 months when inherited behavioral problems (from his now-castrated father) began to kick in, and he soon became a really nice guy.
Jack moved to Montana in mid-1997 to begin his career as a packer. He really enjoyed his new pastures, where he could partake in many of his favorite activities: getting everyone's attention, springing around the pasture, and finding interesting animals, things, and human activities to watch. Unfortunately, a tragic, freak accident that occured while he was tethered on a too-long line at night left Jack permanently crippled, and his packing days were over.
In late May 1999, a black bear waltzed through the fence and into the pasture where Jack was living. The bear quickly detected Jack's weakened condition, promptly cut him out of the herd, and ran him until he could no longer stand. Although Jack's humans were finally able to get the bear to leave, they had no bear-proof place to keep a vulnerable llama safe, so Jack returned here to his birthhome two days later. We were devastated to find that Jack had in fact sustained severe, irrepairable injuries to both rear legs because of his crippled condition, and that he was in steadily increasing pain. That he had walked at all again was one last tribute to Jack's toughness, incredible stubbornness, and will to survive. There was only one more thing we could do for Jack, and that was to humanely end his suffering.
Jack was an athlete from the get-go, and as he matured, he became a very personable llama. Words cannot express the devastation we've felt — twice — at the waste of his body and the loss of his life, nor can they express the helplessness we've felt at our inability to protect our llamas once they leave us. We hope that Jack's needless initial injury and the avoidable events that led to his death can serve as lessons to prevent similar tragedies for other llamas; they have certainly led to changes in the way that we place our valued friends.
Three-Fingered Jack is the core of an extinct volcano just north of Santiam Pass in the Oregon Cascades and a favorite of climbers despite its crumbly composition. It has a distinctive profile, interesting bands of color, and is really spectacular when viewed up close from the PCT, which traverses the west side. Sahalie's sire is Hyder Llamas Apple Jack, so Jack's name was also a reference to him.