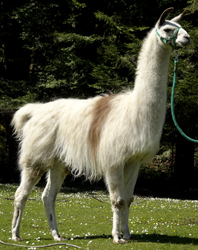 Longmire
Hi Trl Longmire
ILR # 289697
male b. 09.04.2016
Hi Trl Commander Spock x BBR Malinda
click on the photo to see more pictures of Longmire on ipernity
Longmire is a character with endless energy that spouts off like a geyser! Gwen is working with him with the goal of maturity and self-control to come about together — Longmire does need to learn control for everyone's safety, yet we don't want to stifle his energy and enthusiasm. Longmire is mighty fond of "llama cookies", and (duh) hates to stand still for too long. Longmire also has more than a bit of an ADD outlook: Hey, cookies! ... Look, a squirrel! ... What's that thing over there? ... Where was I going?
Longmire may have a mid-length marginally-classic coat, but it may also be a shorter curaca type (we'll know more definitively by mid-2018). In any case, he certainly has many generations of successful packers behind him. We expect him to excel on the trail once he's old enough to put his mind into working. The prospect of having all that energy harnessed to some packing gear in a few years is certainly compelling.
Longmire and his yearmate Duke arrived very much bonded, and they've remained good buddies (at least for now — they're both intact males, and testosterone has a way of destroying those relationships). They're a good team, each with different strengths. Longmire is the happy-go-lucky comedian of the pair — life is meant to be enjoyed! However, Longmire now believes Joey's arrival proves there IS a Santa Claus — everybody else here (including Duke) is too serious for Longmire, but in Joey, Longmire has a match for his energy and desire to play, play, play.
Miranda is Longmire's full sister and Fiona is also rather closely related, but otherwise Longmire is an outcross both to the rest of our breeding herd. How many of our females would be best paired with Longmire remains to be seen — Longmire's goofy disposition makes him harder to evaluate accurately while he's still immature, and of course there is the matter of whether he really has a classic coat or not. Regardless of his eventual place in our own breeding program, we do expect to offer Longmire at stud to working llama breeders ... once he's mature enough to prove his merit on the trail and in matters of self-control (probably starting in 2022 or 2023).
We were supposed to buy Longmire's 2014 full brother, Cooper — but a month before pickup, Cooper died of a bizarre and rare cancer. Longmire was born shortly afterwards, his dam's last (and 14th) offspring at the age of 21. Longmire's existence was a very fortunate turn of events for our breeding herd after a terrible tragedy, and we are grateful to have him and his silly antics as part of our llama family.
Another "theme" name from Highline Trail Llamas — 2016 males were named for tough western characters; "Longmire" refers to fictional character Walt Longmire, sheriff of equally fictional Absorka County in Wyoming; sons of his sire (Spock) were generally given surnames alone as their names. We find the name awkward, but Longmire knows his name and so he keeps it.