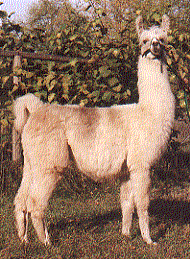 Luka Spiritweaver
ILR # 231252
gelding b. 6-15-2000
JM Rory x CL Loop D Loop
click on the photo to see more pictures of Luka on ipernity
Luka is a phenotypic silky-type woolly llama (genotypically crossbred), about 44" at the withers; his cria fleece was 8 inches and his yearling micron count was 19.1! Luka likes Gwen, but he isn't too sure about Jim, who likes to muss up Luka's topknot.
Luka's parents were purchased at auction by a soft-hearted sheep owner who couldn't bear to see the two llamas going to an uncertain fate, likely pet food. What the sheep owner didn't know was that the female was pregnant (hence Luka's sister, Tia) or that llamas don't have seasonal heat cycles (the mistake that resulted in Luka).
Luka is not conformationally suited for work nor are his gaits conducive to athletic endeavors, but that's OK — his abundant, soft, silky, and uniform fleece is a handspinner's delight for woven projects (including next-to-the-skin garments), perfect for Gwen's self-educational in lama fleece. Luka trades his luxurious fleece yearly for the same dedication and care we give all of our llamas year-round.
Luka also has some important public relations jobs here: He provides our many visitors and students with an excellent example of a phenotypic, non-shedding woolly llama, and he models health-based shearing practices — a very important job in a world that shears fiber llamas for fashion, ignoring what's good for them (and wasting a lot of perfectly useable fleece besides). Along with our other llamas, Luka clearly illustrates why separate llama types are the only way to go for anyone who does more than just dabble in both fiber use and packing.
Even if we bred fiber llamas (which we don't have time or space to pursue), Luka would still be a gelding for plenty of other reasons, each of which merits castration on its own: Luka has a defective lumbosacral joint (inherited from his now-castrated father). Even without the stress of work, the defect will eventually lead to painful arthritis — not an acceptable trait for a breeder who cares about llama well-being. Luka's crossbred background makes him an inappropriate choice for breeding — his fiber is indeed wonderful, but his parents are both crossbreds, and so Luka would not pass that total fiber package to most (let alone every) offspring ... and a responsible breeder does not set about producing culls just because a few might turn out to be desirable for an end use.
Luka likes activities that have a balance of security and interesting things, and of course he loves green grass and grain. He enjoys introducing wrestling games to whoever is our latest weanling male cria. And he gives great hugs to those he trusts! Luka sure misses his pal Owyhee, and Owyhee's 3/4 brother Shuksan. It sucks getting old!
"Luka" is an uncommon nickname for several names that all mean "light" in Latin. Luka is both light-colored and physically lightweight in comparison to our working classic stock (fortunately, the latter doesn't bother him in the least -- he just waltzes up to the chow like a big llama). "Spirit" honors both Luka's gentle and cooperative nature and the etherial quality of his fine fiber; "Weaver" is a reference to the ideal and intended end use for that fiber as well as the way Luka has woven his gentle spirit into our llama world.