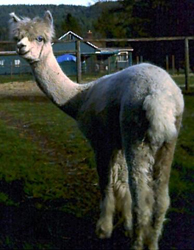 Orcas Island Lummi
AR # 827229
gelding b. 9-22-2000 . d. 2.1.2002
Posie's Comet x Tonasket
Lummi (yep, he was an alpaca) was part of our tiny fiber production and (larger) education crew. He had a superior fleece, beautiful blue eyes, perfectly good hearing, and a very endearing "hm" that was the icing on his charm. Lummi arrived here, squeaking hopefully at any human he glimpsed, in November 2001.
Lummi's mother died before he was weaned, so he was smaller than normal for his age, and we expected that he probably always would be small. We also were fully aware that the cause of his mother's death (thiaminase from an unknown source) might have adersely affected Lummi, either in utero or while he was nursing.
With his history in mind, we immediately started a diagnostic workup when Lummi seemed just a little bit "off" in early January. The result was that we promptly caught an aggressive cancer. However, promptness only aided later decisions — there was no hope for a cure. Tumors soon restricted Lummi's esophagus, at first causing intermittant bloating, but shortly thereafter, Lummi choked severely. Given what we knew about Lummi's condition, the choice was clear — prompt, merciful euthanasia.
Lummi liked our fresh green grass and other foodstuffs, although he initially thought his new pasture might be TOO big (kinda like his llama pasturemates ... ). Despite his confidence with our "giant" (only to him!) llamas, he was really happy to see Klickitat, whom he immediately recognized as another alpaca — a camelid of the proper size and customs!
"Lummi," when pronounced "LUHM-ee," is the name of a native tribe that still lives in northwest Washington state, not too far from Lummi's birthplace. Coincidentally, when pronouned "LOOM-ee," Lummi is the Finnish word for "snow," and Lummi certainly was snow-white! Lummi didn't care how people pronounced his name — he knew it either way — but we tended to use the Finnish pronunciation.