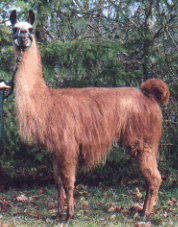 Lost Creek Ranger Owyhee
ILR # 215978
gelding b. 12-19-1999 ... d. 12-16-11
click on the photo to see more pictures of Owyhee on flickr®
Owyhee was 45.25" and ran just under 300 pounds. Maturing at that height despite being his mother's first offspring, Owyhee was a real poster child for the practice of waiting until full physical maturity (at least age four years) before breeding females for the first time.
Owyhee made it very clear that he wanted to work with Gwen. Even though Owyhee's opinion was that Gwen was "mentally defective" for thinking in times of crisis. Gwen also really had a "thing" for Owyhee ... forgiving him for being a fruitcake and reacting in times of crisis.
Between obligations, rescue work, and several years of 60+ hour work weeks (that's before any work on the farm!) and Owyhee's acquisition of dog-phobia (they didn't bother him at all when he was intact … go figure, but that was good enough reason for him not to be breeding), Owyhee and Gwen never did get out like they wanted to. However, those inexplicable instinctive reactions definitely assisted us in further developing the sensitive and successful Get Connected! training approaches.
Owyhee liked any and all special attention from Gwen, of course. He thought grain was pretty cool, and also liked to hang out with his best friend Luka and his brother Shuksan.
In late 2012, Owyhee suddenly developed a rapidly-advancing cancer and had to be euthanized within a couple of weeks after symptoms first appeared. To the very end, he wanted Gwen at his side, and so she way, just as she was there for his birth.
Owyhee was named after the Owyhee River region, where he would blend in perfectly with the rock formations (particularly in Leslie Gulch). The word is actually a native bastardization of "hawaii," and was applied to the river in reference to two early explorers of the area who were from the Sandwich Islands.