Farm Partners
making our lives -- and our llamas' lives -- easier and safer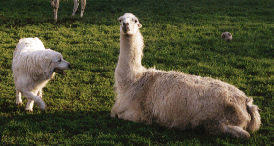 Spukanee spends her day checking up on each approved resident in turn -- even Snowy when she's feeling grouchy. She also alerts us to untoward goings-on in the pastures. If anything came in, she'd chase it out . . . but it seems that nothing dares to! Spukanee is a purebred Polish Tatra, or Owczarek Podhalanski -- an ancient breed of livestock protection dog.

Website for the PTSCA (Polish Tatra Sheepdog Club of America)

Ginseng (SAR Levabiel) is Gwen's recreational partner. He has a very protective bent toward the rest of our animal family. Keeping the ducks out of the foxes' jaws and the neighbor's pot-bellied pig away from nervous llamas may not seem like much, but it's important. Yinny is an Arabian gelding (3/4 Egyptian and 1/4 Crabbet breeding), and as gentle a horse as you could imagine. He's also very astute.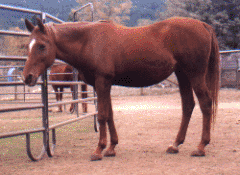 Sassafras (KH Shereym Dal) is Jim's recreational partner and patient equine education specialist. She takes a very no-nonsense approach to aggressive rehab llamas -- they never get past the first inkling of harming the humans. Sass is also a purebred Arabian (3/4 Crabbet and 1/4 Egyptian breeding) with a fundamentally nonviolent nature that is nothing short of amazing when you take into account that she has really "been through the mill" as a victim of ill-fitting saddles, ignorant riders, and a stint with a disgusting backyard mutt foal producer. She (and we) owe a huge debt of gratitude to Emerald Valley Equine Assistance not only for rescuing her, but for stepping in before she got into much worse shape than she was.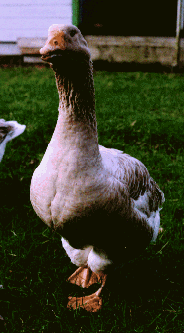 Konrad believes he is doing an important job protecting the back yard. We let him think so -- after all, it is true that the neighbor's pickup hasn't dared to come through the fence with Konrad there . . . yet. He's also quite quick to tell us everything that went on that day, and sometimes that's pretty interesting stuff.

What Konrad, his consorts Marble and Kleine, adopted offspring Dulcina, and fortunate "stray" Foghorn really do that we appreciate no end is "mowing" the back yard. No human in their right mind would want to mow around our obstacle course! Konrad and Kleine are American Buff Geese, Marble and Foghorn are crossbreds with primarily Embden influence, and Dulcina is a Grey Pomeranian.

The ducks do have names, but couldn't care less. Like all ducks, they have their own little world, and we're not too important in that. But they are essential in ours -- as the best and most effective method of slug and snail (and, therefore, liver fluke) control that we can get. So we don't begrudge them their "style."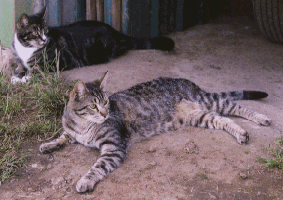 And, of course, no farm would be complete without the Official Mousers. Socks and Tuvok do a terrific job at rodent patrol, are good buddies, and are also experts at eliciting a lot of laughs. Socks is studying massage, and farm visitors will attest that Tuvok appears to have developed and mastered transporter technology and perhaps even time travel. Oolong and Shazbot (not pictured) like to help us empty mousetraps and quite often do their own "trapping."
---
Meet more of our llama family
Return to Lost Creek Llamas home page