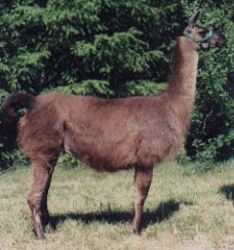 Poppy Too
ILR # 52930
infertile female b. 9-28-84 ... d. 5-15-06
Jimmy Doolittle x Iris
click on the photo to see more pictures of Poppy on flickr®
Poppy wouldn't give humans the time of day ... except for Gwen, whom she thought was very special. Gwen was equally smitten with Poppy, and spent many long hours gaining her trust.
We felt terrible for Poppy when we first saw her — tired, thin, and definitely not likely to make it through another winter without special care. Concerned (as we would be for any llama in that condition) but also feeling a special connection to her, we figured out a way to shoehorn her into our system and convinced her absentee owner to let us take her, expecting a significant impact to our budget and time in return.
What we didn't realize was that Poppy really only needed proper deworming (once a year is NOT enough!), proper nutrition, and a fair shot at the chow line. (Glucosamine and MSM benefitted her, too). Poppy did very well here for quite some time, but eventually, old liver damage from previous parasitism caught up with her.
Poppy had particularly nice bone, skeletal structure, and classic coat characteristics. She would have made a fine packer when younger, and her love of exploration indicated she would have enjoyed that very much. Although we originally had absolutely NO intention of breeding Poppy, once her health returned, we came to realize that she could easily handle a pregnancy. We would have loved to have one or two cria from any llama as good as Poppy, but it turned out her cervix was scarred shut — a common result for any female kept with one or more geldings. It was extremely fortunate Poppy didn't also acquire a life-threatening infection from the gelding(s) that permanently damaged her reproductive tract, but it is tragic that a genetic package so good was completely lost.
Besides exploring and being told she had the best coat on the planet, Poppy loved Gwen, playing in the sprinklers, and those nightly special dinners that included apple pieces for dessert ... not necessarily in that order!