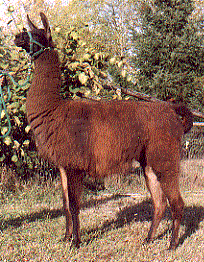 Lost Creek Ranger Shuksan
ILR # 215977
gelding b. 10-22-1999 ... d. 03-25-2015
click on the photo to see more pictures of Shuksan on ipernity
Shuksan stood 45.5" and weighed around 320 lbs before his losing battle with cancer. Shuksan liked both Jim and Gwen.
We gelded Shuksan only because his mother Dallys had a propensity for significantly early births; because Shuksan was not female, we couldn't directly evaluate him for presence or absence of that trait. In all other respects (remembering that intact disposition is different and can't be evaluated with certainty in a castrate), Shuksan might have made "stud quality"; he was indeed an exceptional fellow. However, at maturity, Shuksan developed a less-severe case of a chronic skin condition exactly like his granddam Morgan had. For that reason, we feel it's a VERY good thing he did not contribute to the gene pool.
Shuksan was a stable, sensible presence in the pasture with the younger males and geldings, and we very much miss his abilities in that capacity. Shuksan really missed his 3/4 brother Owyhee, also born the same year and also lost to cancer in late 2011. Because that was the ONLY year we administered two different antiparasitic drugs to any llamas (and thus the only year gestating llamas were exposed), we have to strongly consider that one of these drugs was likely responsible for the cancers that led to both Skuksan's and Owyhee's untimely deaths.
"Shuksan" is a native word (either Nooksack, Lummi, or Skagit, depending on your source) meaning "place of the storm wind" or "rocky and precipitous." Mount Shuksan is a frequently-photographed (and photogenic), rocky and precipitous peak in northern Washington state. Our Shuksan certainly had a bit of a stormy start, and he's also become rather popular with our farm visitors.