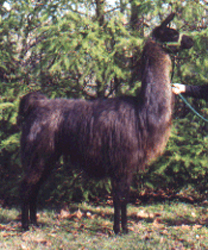 Lost Creek Ranger Taiga
ILR # 227402
female b. 12-31-00 ... d. 6.13.03
Despite our yearly efforts to eradicate dog fennel (Anthemis cotula — the plant that caused Logan's disability and, ultimately, his death) a small patch regrew during summer 2001 in Taiga's pasture. We noted it late one evening and, not expecting it to be eaten right away (llamas normally shun the caustic weed), we returned to the patch the following day ... one day too late: somebody had eaten the plants to the ground. When Taiga stopped gaining weight, we were sickened to realize that she must have been the one. Although Taiga's condition initially appeared much less severe than Logan's, she took a serious downturn in 2002. When she did not pick up again with the 2003 spring grass, we had to face the grim reality that Taiga was wasting away with no hope of recovery. We made a very difficult choice to euthanize her before her disabilities caused her any serious distress.
From birth, we could see that Taiga was definitely a "keeper" in our breeding program, a classic llama of the highest caliber. A still photo couldn't come anywhere close to conveying her exquisitely balanced biomechanical traits and the resulting poetry in motion, and we fully expected Taiga to excel in harness and on the trail. It is impossible to convey the shock and grief we've experienced in Taiga's misfortune and untimely demise.
Although it does not ease the loss of Taiga herself, the much-later discovery that mother Morgan's skin disorder was in fact hereditary means that we would have chosen to NOT breed Taiga anyway.
"Taiga" is the type of northern forest that takes over where the tundra leaves off — not a place for the timid. Fittingly, Taiga was tough and anything but timid. Unfortunately, like the taiga forest, she also ended up stunted.