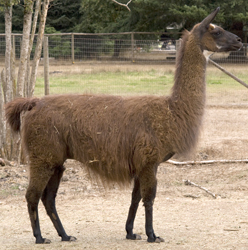 Lost Creek Ranger Taos
ILR # 245245
gelding b. 12-13-2002
click on the photo to see more pictures of Taos on flickr®
Taos is 42.75" at the withers and tends to run around 280 pounds when his pasture is restricted adequately.
Taos was "spoken for" several times, but everybody failed to follow through. We figure the universe is doing this to us to keep him here.
All males born here are presumed to be future geldings unless they prove to be highly superior, and indeed, all but two have been castrated to date. Taos passed our very tough and thorough scrutiny for conformational and biomechanical traits and we would have liked to have kept him intact, but he did not quite come up to "stud quality" in classic-breed-specific coat traits — his coat, although it sheds to a degree, is on the borderline between classic and curaca. We also noted immediately that he has a strong personality, which can be especially difficult to deal with in a stud llama — not to mention that precious few people have the savvy and patience to interact successfully with such a disposition, thus severely limiting humane homes for any similar offspring … and thus it was an easy decision for Taos to be the much happier gelding he is now.
"Taos" means "place where the red willows grow" in Tewa. Taos is red, of course; his maternal grandmother is Snake River Willow. We hope he continues developing his flexibility to be like the willows. We already know that, like willow, he's very strong!