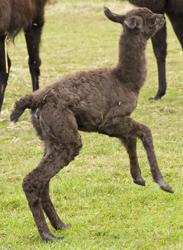 Lost Creek Ranger Toiyabe
not registered
female b. 3-3-2011 ... d. 4-4-2011
click on the photo to see more pictures of Toiyabe on ipernity
Toiyabe weighed in at 19.7 pounds of vim and vigor. Throughout her short life, she exuded the incredible energy and strength and the flabbergasting stamina we'd come to know and appreciate in both her sire Gold'n Hawk and grandsire Ranger Dusty. Although she certainly wasn't above playing the "if you want me to go in for the night you have to catch me" game, Toiyabe was also a sweet, personable, cooperative and level-headed creature as well.
With her high activity level, it came as a great shock and severe blow to us (and our veterinarians) when Toiyabe was found dead one month and one day after her birth.
So our eager anticipation and hope that a new life would ease the pain of Hawk's recent and unexpected death turned out to be even more sorrow, and as if that wasn't enough, there was the pain of some "friends" turning out to be anything but. But, as they say, what doesn't kill you will make you stronger. Toiyabe's short life and its ramifications have done that for us.
You see, Toiyabe actually died of pneumonia, but the cause of that pneumonia was partial choanal atresia. Both pneumonia and the congenital defect were confirmed by necropsy at OSU-VTH. We were virtually certain from birth that Toiyabe was dealing with a partial choanal atresia, although most people argued with us — a llama so vigorous couldn't possibly have CA, they said.
Painful as the combination of Toiyabe's loss and congenital defect have been, the entire experience has caused us to re-think many fundamental aspects of how we will select breeding stock (oh, and "friends", too). Most importantly, it also caused us to find vital recent research on the various causes of choanal atresia in humans (the only other species afflicted with the defect).
Toiyabe means "mountain" in Shoshone and life dealt her — and us — one hell of a mountain to climb.