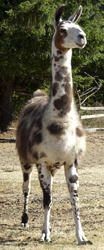 Twigga
ILR # 290567
female b. est 2007
Hannity x unknown
photo credit: Mart Borg
Gwen has been enchanted by Twigga ever since first seeing her, and had long hoped to add an offspring to our herd someday. Mart Borg's bittersweet decision to liquidate his llamas led to our unexpected opportunity to add Twigga herself to our llama family.
Twigga represents an outcross to all of our current animals, so even a single offspring can have a valuable impact on our gene pool. We also don't have many retained female llamas born around 2007, so Twigga can also serendipitously fill our need for a senior female when she retires from breeding.
We plan to pick up Twigga from eastern Idaho in later summer 2023 ... after we're done with unplanned foal watch!
"Twigga" means giraffe in Swahili; it's the perfect name for a long-neckd, large-spot appy llama!