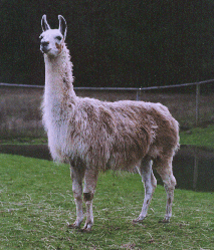 Waldo
ILR # 52377 [registered name Cuzco NEØ7]
gelding b.10-11-78 ... d.9-27-99
Dr. Doolittle x Gisela
Waldo came to us — free — at the age of thirteen because his former owners had no use for an untrained, washed-up stud, and no one else wanted to pay money for him, either. We saw things differently, and Waldo became a permanent and much-loved resident. Waldo was 42.5" at the withers and felt his best at around 265 pounds.
Waldo learned quite a bit in his time here, and had a well-deserved reputation for being a joy to handle and work with. He often helped out when a rookies — human or llama — needed to gain skills. He did llama public relations work, and was a welcome visitor at nursing homes. Waldo did quite well in performance classes at small local shows, but did not accompany us on the longer trips of our regular show circuit in deference to his increasing arthritis. Also because of his arthritis, we kept Waldo's packing work to light loads of 40 pounds or less and only occasional day outings.
Waldo had a host of medical problems — liver damage with lingering impaired function (including scurvy), arthritis, frequent bouts of skin fungus, poor lung capacity, and unusually poor dentition (even for his age). We made the painful choice to euthanize him after he unexpectedly choked on his regular evening meal and we were unable to unblock his esophagus before he developed aspiration pneumonia. The necropsy revealed that Waldo had only 30% of his lungs functioning and also that he had mild megaesophagus (although he'd shown no symptoms of the latter), so the end was near for him in any case.
Waldo enjoyed being "spiffed up," going to shows and other events (with or without other llamas), pet therapy, shopping at PetsMart, Mazuri llama pellets, and knowing that we cared about him. We miss taking care of him, receiving his grateful hugs, his many skills, and watching him bounce around proving that "20 ain't old if you're a llama" very, very much.
. . . those things we love in life can be taken from us,
but our memories of them cannot . . .
The story of Waldo and his training was first published as a column in The Backcountry Llama, and later as a book, "The Waldo Chronicles — A Training Log," which is available from Lost Creek Llamaprints. Animal lovers of all ages tell us they have learned from Waldo and enjoyed his story as much as we have.
Because of Waldo's book, he grew to be one of our most public, well-known llamas. An email notice of his death resulted in message after message of sympathy and sadness — from northern Canada to New York, and from Montana to Texas.
• We are deeply saddened to hear about dear sweet Waldo.

• You made Waldo a part of many people's experience. Very sorry.

• We'll miss him even though we never actually met him.

• Thank you for sharing Waldo's story with us, and thank you for giving him a better life.

• I am so sorry. That must have been absolutely horrible to go through. ... It is so hard to lose a member of the family.

• He certainly was a special llama. Reflect on the happiness he brought you and all who met him. I'm so glad you wrote the book in his honor.

• Waldo was very special to both of you and I am sure you will miss your daily visits with him. I am sure he gave you many happy days, and what you learned from having Waldo in your lives will benefit many other llamas.

• We are so sorry this has happened. A loss of a special friend like Waldo is difficult.

• I never met Waldo in person but knew him only through your book and stories ... I know the care you gave him and the love made his older years for all of you a special time. I cry with you.

• My profound sympathies with your grief. How lucky you were to have him in your life, and how fortunate that you could provide a comfortable and dignified end for your dear friend. ... I almost lost [my horse] to choke on alfalfa pellets three years ago (given to help him keep his weight up during the winter). ... How easily we underestimate something as simple as eating.

• Waldo will be remembered by all who met him.

• So sorry to read of Waldo's untimely death. I think that we all held a special place for him in our hearts. His example has given me, for one, more patience to get to know my animals and understand their message to me rather than jumping to all-too-human conclusions about their behavior. I often think of him and the experiences in your book when I am working with my boys. Yes, I would even say that learning about Waldo was a breakthrough point in my understanding. ... Waldo will live on in our daily involvement with our llamas.

• We are very sorry to hear about Waldo. He certainly was a lucky llama to have been a part of your herd. Your training and care certainly paid off. He was ultimately content and happy.

• Sad news travels fast. So sorry about Waldo. It is sad to see them go but he had a good life with you two. I'm proud to say I had known Waldo.

• Your grief is no doubt enormous and I am so very very sorry. ... How very blessed he was to be fortunate enough to come into your lives and be owned by two of the best llama people on earth.

• I was saddened to hear of the loss of Waldo. You should take comfort in knowing that Waldo probably contributed more to llama understanding and training through your articles in The Waldo Chronicles featuring his life than any other publication on the subject, and for that he will always have a very special place in the lore of llama history.