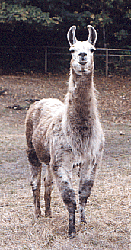 Andrew Jackson
ILR # 72134
male b. 9-22-84 ... d. 9-25-02
Gunther x Azalia
Andrew was probably 44" at the withers in his youth. He was massively overweight (by at least 100 pounds) for virtually all of his adult life, and his body paid the price dearly.
An acquaintance of ours bought Andrew for $30 at the Eugene Livestock Auction, where he was being bid on by slaughter buyers. Gwen was shocked to find that the mellow fellow who barely escaped the dog food can was none other than Andrew Jackson, whom we'd first met him in Central Oregon when he was five years old (and already much too fat). To make a long story short, Andrew came home to live with us; we enjoyed him for nearly two-and-a-half years.
Andrew's behavior, disposition, and coat type were outstanding. In fact, we had wanted very much to purchase a particular Andrew daughter years ago, but she was packaged with her pregnant mother and priced well out of our budget. Because Andrew had sired a number of superior working offspring with excellent traits, we used him for breeding on a limited basis. VERY limited: Andrew's severe arthritis meant that no matter how cooperative the female, he needed both of us for assistance to breed successfully.
Andrew enjoyed a quiet but interesting life in our backyard with the open females pasture on one side and the "maternity and nursery" pasture on another. Andrew also rather liked his "friend" Dusty, and Dusty liked him as well — a very unusual relationship for a couple of breeding studs!
In mid-May 2002, Andrew was tentatively diagnosed with an osteosarcoma, a very aggressive bone cancer. In fact, the growth turned out to be a peculiar arthritic growth, but Andrew's many other health issues from a lifetime of neglect and obesity finally caught up with him and he died of their cumulative effects shortly after his eighteenth birthday. Although we spent thousands on his dental care, repair of an acquired oronasal fistula, and special supplements to ease his arthritis, we don't regret it one bit. It was a small price to pay for getting to know a really neat fellow.
"Andrew Jackson" was, of course, a US President. Andrew Jackson's older brother was the late Hyder Llamas Apple Jack (sire of our Sahalie), and no doubt somebody thought it was funny to bestow a name with matching initials and with "Jack" as part of the moniker. We weren't thrilled with the name, but Andrew was used to it and didn't have any interest in a different one, so we just forced ourselves to get used to it.
Andrew's offspring born at Lost Creek Llamas: