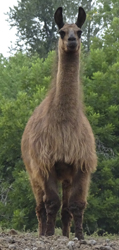 Lost Creek Dunc'n Hawk
ILR # 291712
male b. 06-06-2018
click on the photo to see more pictures of Dunc'n on ipernity
Dunc'n is a stout and sturdy fellow, shockingly reminiscent of paternal grandsire Gold'n Hawk in his brillo-pad mid-length guard hair, color, heavy build, ears, head, and disposition. In addition, Dunc'n has Sage's excellent gaits with an even better natural trot. Dunc'n's total package oozes "harness potential" and has Gwen drooling over the possibilities.
Dunc'n's coat is shedding out reasonably well given the longer guard hair of his mid-length Classic coat; because both parents are standard coat Classics, Dunc'n may also be homozygous for shedding. The rest of the package was pretty compelling from the start, so it now appears that Dunc'n is on track to join our "inner circle" (no outside breeding) team of Classic pack studs.
Because we are in desperate need of one or two working and "trainer" geldings, because Dunc'n is notably shy with humans, and because Dunc'n is already a favorite of Gwen's ("oozes harness potential", remember?), we will retain him even if he fails to make the grade as a stud.
"Duncan" is a Scottish name from two words meaning "dark or brown" and "battle or warrior." Dunc'n is a very dark color, and his mom had a battle to birth him (a very long labor culminating in dystocia, in this case both front legs needing repositioning). Dunc'n's resemblance to Gold'n Hawk was unusually striking from the start, and we were compelled to find a name that referenced his beloved paternal grandsire — Dunc'n Hawk fits perfectly.