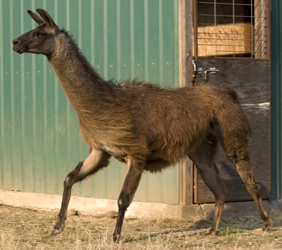 Rocky Mountain Greymist
ILR # 208519
female b. 5-27-1998 . . . d. 08.13.2019
Rocky Mountain Inca x Bett's Tumichi
click on the photo to see more pictures of Greymist on flickr®
Greymist stood just under 46" and weighed around 340 pounds in her youth. She immediately chose Jim as her partner before we even started the process of choosing her. Greymist had the kind of curiosity that mades her fun and rewarding to play with.
We thought we were through adding breeding females to our herd at the time, but ... Bobra Goldsmith repeatedly insisted that she owed us a replacement female after Kiowah gave birth to a cria with choanal atresia (now that's a truly ethical breeder and friend!). When we visited Bobra in the summer of 2000, we were quite taken with Greymist and were pretty ecstatic when Bobra decided she could part with her.
Greymist had an athletic, well-muscled body wearing a stupendously wonderful Classic coat, which she passed on to all but one of her offspring. She wasn't perfect, though — she kicked reflexively, and very hard, too — a trait that was definitely inherited from her sire.
Greymist came up severely lame in her left foreleg just a few weeks prior to Teewinot's birth, and she initially retained some minor disability from that mysterious incident, so we decided against breeding her again. As the years passed, the lameness turned into a cascade of skeletal stresses, first leading to increasing difficulty getting around, and eventually to euthanasia.
Greymist liked getting into things — particularly forbidden things — and she never turned down a "cookie" of any kind.
Greymist's name is no doubt a reference to her color (grey-brown, or dun).
Meet Greymist's offspring: