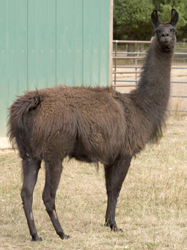 Lost Creek Ranger Psallite
ILR # 266910
female b. 11-22-2005
click on the photo to see more pictures of Psallite on ipernity
Psallite is a real jumping bean, always full of energy. She's matured at 44.25" and runs around 310 pounds. Psallite is not for sale.
Like full sister Tokatee, Psallite showed excellent promise as a future packer. We are especially impressed with Psallite's energy, exuberance and athleticism. Like all of her paternal sibs, she has inherited her sire's unparalleled "power butt"; she also has her dam's shorter coat … and she just loves to be combed!
However, Psallite was shown once and contracted external parasites from the experience. The two llamas who went with her, stalled in the same quarters, also contracted the parasites, but only Psallite developed a severe and extensive skin condition as a result. Psallite will not be shown again, and sadly will probably never be able to pack due to the residual dermal scarring that extends well into the pack saddle contact zone.
Psallite inherited her dam's lightning-fast (and super-hard) reflexive kick and her full sister Tokatee did not, so we did not plan to use Psallite for breeding. However, Psallite does have other compelling qualities (full sibs are not genetically identical!), and we decided to breed Psallite on a limited basis, only to learn that Psallite inheritied her dam's conception difficulties, and that was the final straw — Psallite is a nonbreeder!
"Psallite" (say: "sah-lee-tay") means "little song of praise" ... and indeed she is a living song of praise to two excellent parents, and to her own joy and exuberance in life.