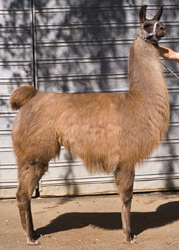 Lost Creek Teewinot
ILR # 277104
female b. 6-4-2009
click on the photo to see more pictures of Teewinot on ipernity
Teewinot is about 45" at the withers and fluctuates between 330 and 360 pounds. Teewinot shines with humans who will take the little extra effort to be sure she feels safe whenever the going gets scary.
Teewinot was the upgrade to dam Greymist that we had long awaited, even though her coat type is k'ara and must be shorn every other year. Unfortunately, Teewinot turned out to be a downgrade in the reproductive department, so she's a nonbreeder by default.
Teewinot has many good years of packing left, and would benefit from a home with less lush forage (like her sire line, she gains and retains weight too easily). Her sire and multiple half-sibs have earned PLTA MPL certification (Sky Rocket earned his MPL at age 17!), and many of her paternal half-sibs are working as packers — including solo personal, family, and elk hunting pack llamas.
Teewinot could also continue to excel in a showing home — she already has Grand and Reserve Halter Championships herself (we only took her to two shows), and she is a half-sib to multiple Halter and Performance Champions through her sire.
Last but definitely not least, Teewinot has excellent potential as a harness llama due to her top-shelf hindquarter muscling, strong four-beat walk, and natural trot. If she does not sell by fall of 2020, we plan to start her in harness. Her physical attributes are just too good to waste!
We will consider placing Teewinot in a suitable females-only home for a very reasonable price — but Teewinot will definitely need to interview and approve the humans involved. Contact us if you're interested!
"Teewinot" (say: TEE-win-oh) is the French adaptation of the Shoshone word for the Teton Range (it has since been applied to one specific peak in the range by whites).