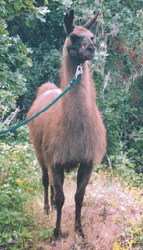 Billllama
ILR # 57097
gelding b. 3.79 ... d. 8.8.05
Oak Hill Clyde x Buella of Chehalem Valley
click on the photo to see more pictures of Bill on flickr®
Bill was our first llama rescue and rehabilitation case, and felt safest with Gwen. He was 45.5" at the withers and declined through the years from his original 325 pounds to 300 pounds for a few years and finally to less than 250lbs. We finally euthanized him due to his declining health and complications (getting stuck flat on his side in various places in the pasture) at age 26. Necropsy reports showed Bill was in congestive heart failure with fluid accumulating in his lungs and loss of muscle mass, as would be expected. However, his teeth were in remarkably good condition for his age, likely in part because we did take him in for cutting-edge dental work twice.
Bill's abuse included being forced to work hauling tree seedlings daily during the winter months with a very painful, ill-fitting pack saddle, and he was beaten and kicked for his frequent protests against his pain. After work, his pasturemates raped him and kept him from food and shelter. Two stories of Bill's past and his rehabilitation were published in The Backcountry Llama Newsletter.
It took time and patience, but Bill did learn to trust us. Until 1997, when a pasture injury to one front pastern (and subsequent stress on the other) forced his retirement, he was the top choice for a responsible "caboose" in any packing string. He was able to conquer his fear, with our support, and to return to working in a string with Ranger Dusty on volunteer Forest Service work crews, an environment superficially similar in many ways to the one in which he was abused.
Bill liked watching pasture conflicts, making unauthorized explorations for delicacies, and otherwise being left to his own devices. He left us with not only memories, but many lessons.