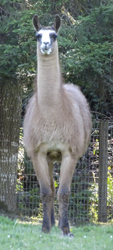 Lost Creek Carhartt
ILR # 291713
male b. 06-10-2018
click on the photo to see more pictures of Carhartt on ipernity
Carhartt started life at 33.5 lbs and with a notably long set of legs. He's got grit and determination coupled with exceptional energy, but he's also delighted to interact with humans. Carhartt has the highly sought-after standard (short) classic coat, with a 50% chance of being homozygous.
Carhartt has emphatically chosen Gwen, and even before weaning he was equally emphatic that he wants to go on adventures with her whenever possible ... and so it shall be! Carhartt does appear to have the energy, stamina and sound build necessary to be the 20+ mile-per-day llama that Gwen needs to "do her long-distance thing", so Carhartt can look forward to a challenging trial when he's old enough.
Carhartt's immediate and extended family is full of working packers, including two PLTA MPL certified llamas (his grandsire Sky Rocket and his dam's full brother Lost Creek Credo). His paternal grandsire Gold'n Hawk was one course completion short of earning his MPL certification when his life was cut short by an unknown gastrointestinal problem. Carhartt's dam's full sister Lost Creek Saucony and half-sister "Peanut" are working packers; Carhartt's sire "Bull" has also produced a number of working packers and packers-in-training, and is greatly appreciated and admired for his easy disposition.
We will definitely continue to evaluate Carhartt's potential as a stud. Of most concern to us is that Carhartt will need to have adequate self-control over his hormones at maturity — we are not interested in perpetuating anything other than the level-headed males that were once the overwhelming norm in the Classic llama gene pool
Because most of our females are related to Carhartt, our long-term projection is to offer him at stud to serious pack llama breeders during the early part of the year and then let him and Gwen try to wear each other out during the prime hiking season (July through snowfall). We are also contemplating selling part breeding interests after Carhartt is well-proven, but that would not change his strictly seasonal availability.
Carhartt is unrelated to all the heavily-used packing studs (who now appear in the pedigrees of a majority of female pack breeding stock in the US). Carhartt's strong, stable rear end, medium-tall ancestry and above-average bone and muscle make him highly likely to add improvements to a wide range of pack breeding programs. We would expect him to add both genetic diversity as well as improving most females from the common Hi Trl (Highline Trail) bloodlines, adding the standard Classic coat, increasing uphill power, and improving stability in travel while not giving away anything in energy, height, bone or toughness.
If you are considering breeding your female to Carhartt, you can download an annotated copy of his ancestry HERE, and you can read our current stud service information HERE.
He's "Carhartt brown", he's a working llama, and we could see he was tough from day one. It's a fit!