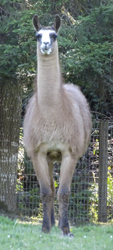 Lost Creek Carhartt
ILR # 291713
male b. 06-10-2018
click on the photo to see more pictures of Carhartt on ipernity
Carhartt started life at 33.5 lbs and with a notably long set of legs. He's got grit and determination, but he's also delighted to interact with humans. He will have the highly sought-after standard (short) classic coat, and has a 50% chance of being homozygous.
Carhartt has extreme energy in a leggy, taller package (we project a solid 46-47" at maturity). He is unrelated to all the heavily-used packing studs (who now appear in the pedigrees of a majority of female pack breeding stock in the US). Carhartt's strong, stable rear end, medium-tall ancestry and above-average bone and muscle make him highly likely to add improvements to a wide range of pack breeding programs. We would expect him to produce exceptionally well with many females from the common Hi Trl (Highline Trail) bloodlines, including Miranda, adding the standard Classic coat, increasing uphill power, andimproving stability in travel while not giving away anything in energy, height, bone or toughness.
Carhartt's immediate and extended family is full of working packers, including two PLTA MPL certified llamas (his grandsire Sky Rocket and his dam's full brother Lost Creek Credo). His paternal grandsire Gold'n Hawk was one course completion short of earning his MPL certification when his life was cut short by an unknown gastrointestinal problem. Carhartt's dam's full sister Lost Creek Saucony and half-sister "Peanut" are working packers; Carhartt's sire "Bull" has also produced a number of working packers and packers-in-training, and is greatly appreciated and admired for his easy disposition.
We will definitely retain Carhartt long enough to fairly evaluate his potential as a stud, and whether he has adequate self-control over hormones at maturity — a tough row to hoe, as the Sky Rocket line has many males who require extra effort to house and manage safely, and who cannot get along reasonably with other males and geldings. Carhartt also carries genes from the much mellower and sensible Gold'n Hawk ancestry, so he has a chance to be the level-headed male that exemplifies breeding quality for Classic pack llamas.
Our long-term projection is to keep Carhartt, offer him at stud to serious pack llama breeders during the part of the year, and to pair him with Duke and/or Longmire for pack llama rental to trusted friends during the rest of the year — this seems to be the best route for greatest good of the pack llama gene pool, Carhartt, and us. We are also contemplating selling part breeding interests after Carhartt is well-proven.
However, we are all too well acquainted with how life gets in the way after we've gone to the trouble of making plans, and we're not setting anything in stone. If Carhartt fails any of the many tests-to-remain-in-the-gene-pool ahead of him, we will geld him and place him in the serious working home he was bred for and deserves.
IF we decide to sell Carhartt — intact or gelded — he will definitely be matched very carefully with someone (not just anyone) from our waiting pool. Carhartt has an uncommon toughness coupled with high exuberance and a mental quickness that makes him not for the timid or the llama newbie — the same traits that make him a jackpot for the backcountry enthusiast whose activities require a truly exceptional llama companion.
IF we decide to sell Carhartt — intact or gelded — he will need to stay busy. Not sitting in the pasture waiting for the occasional weekender with the fam. Not a few conditioning hikes followed by the annual fall hunt. Not living in a paddock waiting for the infrequent opportunity to breed a female. Definitely not parked in a pen at a handful of llama shows with only a token hike for a pretty marketing photo op thrown in. Think commercial or extreme-enthusiast (3-4 seasons a year) level busy for this guy!
IF we decide to sell, Carhartt's price will depend on what training level he's achieved, whether he's intact or gelded, and (if intact) whether we are selling full, part, or breeding-only interest.
There will also be heavy consideration given to the quality of Carhartt's life, amount of work activity and breeding opportunities, and whether we are offered something equally valuable for our breeding herd in return.
You can be absolutely certain of one thing, though — Carhartt won't come cheap. The best never do.
You can download an annotated copy of Carhartt's ancestry HERE.
He's "Carhartt brown", he's a working llama, and we could see he was tough from day one. It's a fit!