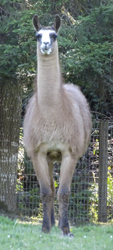 Lost Creek Carhartt
ILR # pending
male b. 06-10-2018
click on the photo to see more pictures of Carhartt on ipernity
Carhartt started life at 33.5 lbs and with a notably long set of legs. He's got grit and determination, but he's also very willing to interact with humans. He will have the highly sought-after standard (short) classic coat.
Carhartt's family is chock full of working packers, including two PLTA MPL certified llamas (his grandsire Sky Rocket and his dam's full brother Lost Creek Credo). His paternal grandsire Gold'n Hawk was one course completion short of earning his MPL certification when his life was cut short by an unknown gastrointestinal problem. Carhartt's dam's full sister Lost Creek Saucony and half-sister "Peanut" are working packers. Carhartt's sire "Bull" has also produced a number of working packers and packers-in-training.
We will retain Carhartt long enough to evaluate his potential as a stud, whether that be here (primarily for outside breedings) or elsewhere, but unless he is truly outstanding and the right match can be made, we will geld Carhartt when he's old enough and prepare him for the working life he was bred for and deserves. Carhartt is exactly the type of high quality working llama we strive to provide to the serious backcountry enthusiast.
He's "Carhartt brown", he's a working llama, and we can already see he's tough. It's a fit!