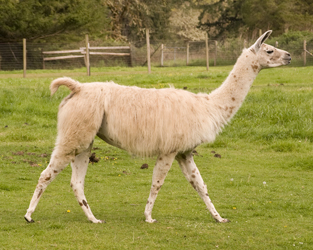 Lost Creek Klahowya
ILR # 279645
female b. 11-11-2009
click on the photo to see more pictures of Klahowya on ipernity
Klahowya was Rosie's last baby for us, and has finally finished growing up! Like full-sister Saucony, she is verging on overly-tall by our preferences at 46". Like all her full sibs, Klahowya is prone to be weight-control challenged, but is much the easiest of the bunch to keep at optimum weight.
Klahowya exemplifies the highly-desirable standard (short) Classic coat, has excellent packing potential, and is also a good breeding prospect for anyone who is serious about producing top-quality working Classic llamas. A llama comparable to Klahowya (including true Classic coat, outcross genetics, congenial disposition, and striking appearance) is a rare find, and we know that in spades. Klahowya and her relatives also have outstanding reproductive and maternal traits — important things that we've learned (the hard way) are much, much rarer than we're all led to believe.
We produced Klahowya with the intent to sell her, but life has its twists and turns. First, full sister Saucony let us know she was emphatically interested in working, not dealing with babies, and so it was Saucony who found a new home instead.
Then, during the winter of 2016-17, Klahowya re-aggrevated an injury that occured either during transport or during the night after she arrived here (she was born and raised to weaning on another farm). Although Klahowya currently shows no gait unsoundness, she now "clicks" loudly when cantering (not when walking, nor when turning). The clicking had arisen once before and disappeared, but this time it is obviously not going away. We can only expect that this will progress over time and Klahowya will eventually have one hind leg compromised.
Klahowya will be breeding here for as long as she is comfortable doing so, and then we give her the retirement home she deserves, whenever that turns out to be.
Klahowya's strong-and-confident nonbreeder half-sister Peanut is available to the right situation. Klahowya's powerful full brother Credo (PLTA MPL certified) is a working packer in WA state (we have retained two of his offspring in our herd); full sister Saucony is a working packer for Jackson Hole Llama Trekking.
Klahowya loves "cookies" (llama treats)!!!
Klahowya is the Chinook jargon friendly greeting; Chinook jargon, for those who don't know, was the near-universal trade and inter-tribal language of the Pacific Northwest, spoken by Native Americans and whites alike whenever a common tongue was required. Klahowya is, like her mother and all her sisters, prone to bestowing pleasant greetings on all who meet her.

Meet Klahowya's offspring: