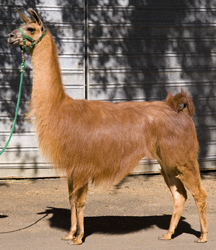 Friday Creek Farm Chanterelle
ILR # 265808
nonbreeder female b. 7-11-2005
click on the photo to see more pictures of Chanterelle aka "Peanut" on ipernity
Chanterelle, aka "Peanut" is 45" and tends to run around 330 pounds. She is very athletic, sensible, and has a good work ethic, but is not the kind of llama who seeks out human companionship at home, in part because of her lack of early handling (she was not born here), and in greater part due to her amazing self-confidence. Don't take that to mean Peanut doesn't like people, though — once she gets to really know and trust someone, she's curious and shyly interactive. Peanut has decided Gwen is actually a pretty fair and trustworthy leader, and looks to her rather than to any llama companion(s) when off the farm
Peanut's sire (Sky Rocket) and paternal half-brother (Lost Creek Credo) both earned PLTA MPL certification; Credo is now a working personal packer in WA state. Peanut's paternal half-sister Saucony is a working packer for Jackson Hole Llama Trekking. Peanut's dam (Snake River Dallys) was an enjoyable backcountry packer, and several maternal half-siblings are working packers, too. Packing really runs in Peanut's blood!
Thanks to quite a bit of unanticipated and heavy-duty "life happens" stuff that we had thrown at us since her arrival, Peanut's pack training was unavoidably delayed through no fault of her own until fairly recently (2015 and 2016).
Peanut is very "handy" when bushwacking, thinks her way through novel trail challenges, and shows the characteristics we associate with a great "lead llama" (whether in a string or just being the first llama up the trail) — and if you already pack with llamas, you know the rarity and value of llamas who can lead! Peanut's initial stringing experiences indicate that she's not only a capable leader, (unfazed by even a blundering, protesting newbie string behind), but she's also very observant when she's the one bringing up the rear.
Inquire about Peanut if you're interested in a strong, observant-yet-unflappable female packer! We are currently planning to retain her at least through the 2017 season to assist us in training some of our other up-and-coming female packers. After that time, Peanut will be available to the right situation, and we would also consider leasing her seasonally rather than selling her outright.
We will take a deposit on Peanut (at her current price) to a situation that's an excellent match, but otherwise we expect Peanut's price to increase to $1800 in the near future. That may rise to as much as $2500-$2800 once she reaches the "experienced" level (yes, she's that impressive).
Peanut's current price is $1500 ($500 nonrefundable deposit required to hold her and freeze her price).
Peanut will be sold as a nonbreeder only (her registration has already been changed to nonbreeder status).
A chanterelle is a fall-fruiting species of mushroom, usually a beautiful golden color. And we all know what color a peanut is (and how little they are). For reasons that frustrate her breeder and (frankly) everyone except Gwen, Chanterelle prefers to be called "Peanut". So her registered name is Chanterelle … and she goes by Peanut.