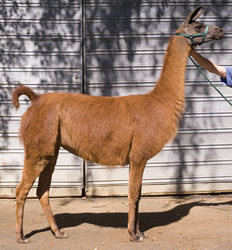 Lost Creek Saucony
ILR # 274717
female b. 11-30-2006
click on the photo to see more pictures of Saucony on ipernity
Saucony matured at 46" and most unfortunately, has her dam's belief that there is no such thing as too much food. Fortunately she's also inherited stength and flawless conformation from both parents.
Saucony is a full sister to Credo (PLTA MPL certified) and Klahowya. Saucony's standard coat is THE most practical for a working llama because it is so extremely fast to groom while leaving adequate insect and weather protection year-round. It is not common to find such a coat anymore, especially not on a superior working body such as Saucony's. Saucony's relatives also have flawless reproductive and maternal traits. Saucony would have been a valued member of our breeding hered ...
BUT ...
(life always throws curve balls) ...
We ended up with not one, but two very closely related young stud prospecst and two closely related young females (one of each is from Highlight, the only stud we have who is unrelated to Saucony) ... and our other mature stud, Troubadour, is a half-sib to Saucony. You can see where this was going.
We knew Saucony was much too nice a llama to live a primarily-pasture-only-life here. We had finally decided to breed her once ourselves and then find her an appreciative breeding home, but (longer story cut short) Saucony made it crystal clear that she much prefers exploration and adventures — and we couldn't stand in the way of her self-actualization. Saucony joined Jackson Hole Llama Trekking's all-female pack llama crew and worked there until Saucony became unemployed when the business was sold in mid-2017 and the new owner contracted with a different llama outfitter.
Saucony returned in late September 2017. We expected her to be out of condition, but not 145 lbs overweight! All those extra pounds need to be taken off carefully, so we took full responsibility for returning her to ready-to-work status. Happily, Saucony found a great packing home with her capable half-sister Peanut at the end of 2017, and will join her once her weight is back to what it should be.

"Saucony" is derived from a Native American word meaning "swiftly running waters". It is also the name of a company that primarily manufactures running shoes. Our Saucony is a runner for sure — in fact, it was rare to see her walk until she finally got old enough that the adult llamas let her know she needed to control her rambunctious self!