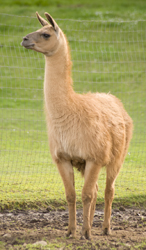 Lost Creek Credo, MPL
ILR #266909
gelding b. 11-18-2005
click on the photo to see more pictures of Credo on ipernity
~ ~ ~ SOLD — congratulations to Perry B. ! ~ ~ ~
Credo is around 45" at the withers (understand that most sellers would inflate that to 47") Although he has inherited his dam's tendency to put on extra fat for a rainy day, for reasons that escape us, castration has helped rather than hurt Credo's weight control — he now averages 365 pounds, which we feel is appropriate for him. The upside to Credo's thrifty metabolism is that he'll almost certainly continue to maintain a healthy weight well into in old age (22+). He will have to be kept on very sparse forage or a dry lot for his prime years, however.
Credo's excellent coat, strong and flawless conformation, and unflappable disposition are all recognized attributes in working pack llamas. Credo really shines with a savvy handler (like many llamas, he will take advantage of inattentive or timid humans, although he is much less motivated to do so now that he's been gelded), and he likes all kinds of adventures away from the farm — people-watching at shows, hanging out in camp, listening to music ... it's all great.
We bred Credo to several of our females to evaluate his potential as a stud and produced three strong, remarkably athletic pack prospects — the last of which was a substantially upgrade son, Koa, who has everything we have always liked about Credo, but ideal harness gaits and a special bond with Gwen, too! It was a no-brainer to keep Koa as a replacement for his sire, and to geld Credo, who will now spend his prime years on the trail as a happier, busier gelding. Indeed, after castration Credo is much more relaxed and vastly more interested in being a partner.
"Credo" (for the latin-challenged, that's pronounced "CRAY-doe") is Latin for "creed" and means a statement of belief.

Credo is a living statement of our strong beliefs in llama rescue (mother Rosie was rescued); highest quality medical care (he was conceived after father Sky Rocket shattered his leg and was being nursed back to soundness at extreme expense); practical knowledge (not fad-based or showring-driven) of working llama conformation and biomechanics; Classic llama breed recognition and preservation; sensitive, individualized natural training philosophies; and castration as a tool to improve both the gene pool and individual llamas' happiness. What a fitting name for a llama who, without our adherence to these tenets, could not even have existed, let alone thrive as he does now!
Credo earned his PLTA Master Pack Llama certification in May 2013
Meet Credo's offspring: