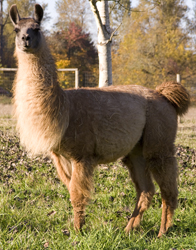 Lost Creek Elahn
ILR # NONE
gelding b. 4-3-2012
click on the photo to see more pictures of Elahn on ipernity
Elahn is 42" at the withers, currently weighs 290 lbs, and has remarkable stamina and agility. He has that increasingly rare, crazy-light-on-his-feet atheticism and energy that only comes in small packages. His mind is also very agile, and as such, he'll be a delight ... for the right human partner. If you are confident in yourself, patient, a good student, and place value on reliable performance, Elahn wants to meet you!
Elahn's fleece is a mixed curaca and woolly type that requires yearly shearing and with a marginally-shedding neck and tail. If shearing is well-timed to allow adequate regrowth (but not too much) for packing work, he will be fine for the backcountry traveller who prefers trips during the prime, ideal portion of packing season and later, or who already lives and packs in a dry climate.
Elahn's sire (Lost Creek Credo) and grandsire (Sky Rocket) both attained PLTA MPL certification; Credo is now a working gelding in WA state. We see all their most stellar physical attributes in Elahn.
Although Elahn enjoys interacting with humans (uh, on his terms ... lots of energy equals a short attention span!) and doesn't cling to other llamas, we've discovered he shines when paired with an experienced llama. Elahn does have his dam's skepticism of dogs and other small critters, and whether he can bring that under control will determine whether he can shine as a packer or ends up being a permanent pasture pet, and this is the reason we have taken Elahn off of our active sales list.
Although we will consider placing Elahn on trial into the right situation, he will otherwise not be available for purchase prior to becoming an experienced packer with several seasons on the trail ... and that depends entirely on whether we can succeed in getting him over his "dog thing". Inquire about Elahn if you are interested in a very energetic and athletic young pack prospect AND you have experience gaining and maintaining llamas' trust (essential for keeping "dog fear" in check).
We would also consider placing Elahn in a no-dogs home with secure fencing (to protect him from neighboring or stray dogs). Inquire if you are interested.
Elann or elahan is a Chinook Jargon word (originally from Salish, E-la-han), meaning aid or assistance; it also (spelled "Elan") means "oak tree" in Hebrew. Both are fitting for our Elahn, especially the former — that's what pack llamas do! Because the spelling of all Native American words comes from (often inept) phonetic approximations anyway, we've taken the liberty of altering the spelling to Elahn to help others get the pronunciation the way Elahn is used to hearing it.