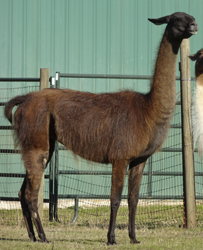 Lost Creek Cinder
ILR # 290560
female b. 3-6-2017
click on the photo to see more pictures of Cinder on ipernity
Cinder is a bouncy, healthy young llama with a good head on her shoulders. Her energy and athleticism provide us with seemingly endless entertainment!
Cinder has excellent Classic type in all respects — physique, temperament and coat. We expect her to mature into an outstanding trail companion and invaluable producer of Classic llamas. Because her sire's fertility is currently in question and her dam's reproductive career is almost certain to be cut short eventually by an injury, we will be retaining Cinder for our own breeding program.
Cinder is named for South Cinder Peak, a cinder cone that is quite attention-grabbing due to its proximity to the Pacific Crest Trail (Mount Jefferson Wilderness, Oregon). Cinder's color is just like South Cinder Peak ... and she's also as light on her feet as a flying cinder, too!