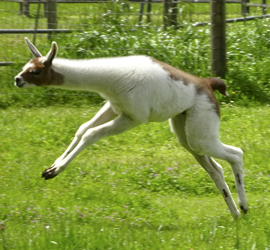 Lost Creek Rowena
ILR # pending
female b. 04-06-2022
visit the Lost Creek Llamas FB page for more photos of Rowena
Rowena is a leggy little llama who loves to run!
We will retain Rowena long enough to get to know her well and for good social basics to be "installed". Of course life can take strange turns, but we do anticipate making Rowena available to the right-fit home when she's old enough.
Rowena is one of those names that have no clear origin and numerous meanings, including both white mane and red hair. Normally those meanings would be in conflict, but not for our Rowena — she has both!

The first woman to solo hike the entire 2,168-mile Appalachian Trail was Emma Rowena Gatewood.