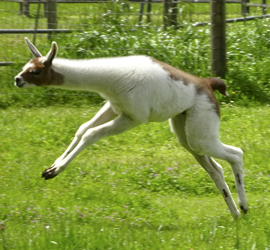 Lost Creek Rowena
ILR # 296386
female b. 04-06-2022
visit the Lost Creek Llamas FB page for more photos of Rowena
Rowena is a smart and leggy little llama who loves to run! After taking some time to be sure that *we* have good boundaries, Rowena has determined that we are really pretty cool and that she does want to get to know us a lot better. Jim is particularly smitten with Rowena.
We originally anticipated making Rowena available, but after she tightened up post-birth, it became clear that her coat will make the grade for us, and that her gaits are definitely harness-caliber. In addition, we feel Rowena's maternal grandsire Rocky Mountain Highlight (and his sire, Rocky Mountain High Spirits) are underrepresented in the gene pool. On top of all that, we have a third keeper Duke daughter in Pequop, who is Rowena's agemate and buddy. So we'll retain Rowena and sell her older 7/8-in-blood sib Toya'ana instead (whom we still really like).
Rowena is one of those names that have no clear origin and numerous meanings, including both white mane and red hair. Normally those meanings would be in conflict, but not for our Rowena — she has both!

The first woman to solo hike the entire 2,168-mile Appalachian Trail was Emma Rowena Gatewood.