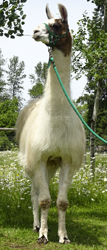 Duke
Hi Trl The Duke
ILR # 289527
male b. 06.28.2016
Hi Trl Daniel Jackson x Queen of BT and Evaine
click on the photo to see more pictures of Duke on ipernity
Duke is always "the adult in the pasture", cohabiting peaceably with our other males, and keeping close tabs on everyone's whereabouts and wellbeing. With humans, he's a willing partner no matter who is on the other end of the lead rope, always doing his best without any incentive other than just being asked.
Duke is 47" at the withers, has correct conformation with excellent bone, good working gaits and a level head — and a nice Classic coat to complete the package. He has considerable longevity (both soundness and female reproductive fitness) in his immediate ancestry.
Duke's first offspring are definitely exceeding our expectations! We anticipate making Duke available for outside breedings (when he's not busy packing or breeding here) in 2022 or 2023.
Another "theme" name from Highline Trail Llamas — 2016 males were named for tough western characters; "The Duke" refers to John Wayne, of course.
Meet Duke's offspring: