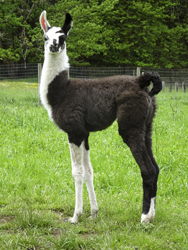 Lost Creek Pequop
ILR # 296483
female b. 05-08-2022
click on the photo to see more pictures of Pequop on ipernity
Pequop is cautious, not committing to anything before she has a chance to think it over. She's learning that humans are kinda interesting and over time, we'll carefully structure her experiences to expand that notion into the realm of "fun".
Pequop has her dam's excellent classic coat, muscling and gaits; her sire added leg and brains and a splash of eye candy. We couldn't have ordered up a better addition to our future breeding (and packing) female herd. Needless to say, Pequop is not for sale!
"Pequop" is the name of a mountain range in Nevada. The origin is almost certainly the Shoshone language, but at that point the exact trail to a meaning breaks down.

Pequop was also a favorite llama name of Bobra Goldsmith, and we honor Bobra through again using the name for the type of llama she most admired — Classic, functional, and attractive in a single package.