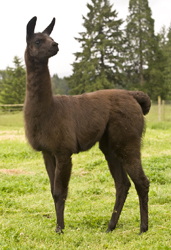 Lost Creek Ranger Gaiya
ILR # 285351
female b. 4-22-2012
click on the photo to see more pictures of Gaiya on ipernity
Everybody is Gaiya's human. They're just all wonderful and very interesting.
Gaiya amazes us daily. At one time, she appeared to be as close to our idea of perfection as we've ever seen, let alone bred. Gaiya is the most level-headed, naturally handleable llama we can remember ever being born here. With her love of interacting with strange people, she is a natural at pubic relations activities, and could even pursue therapy work if we chose to spend out time that way. Gaiya has also inherited her sire Highlight's lightness and athleticism, and grandsire Dusty's ultra-powerful rear end "engine." We would rate Gaiya's gaits as excellent; physically, she should be a natural in harness. Unfortunately, no llama is perfect, and Gaiya's coat is clearly curaca — her neck sheds out, but her body does not.
For reasons that should be obvious, we plan to keep Gaiya here as part of our llama family, and if we later find or produce a suitable stud, we will be ecstatic to add her to our breeding herd as well. If not, we will still enjoy this exquisite gem to the fullest.
Everyone dreams of breeding a llama that suits them as well as Gaiya suits us; most people are never able to achieve that goal. We're not about to trade something as rare as this dream-come-true for mere money! Translation — Don't even think it! Gaiya is NOT for sale and especially NOT (if there could even be degrees of such absolutes!) to anyone insensitive enough to not understand that. (For that matter, no llama deserves to be sentenced to life under a boundary-violator.)
Gaiya was born on Earth Day (for what that's worth — we're normally uncomfortable with names referencing something as arbitrary as a particular day on the western calendar). However, Gaiya is certainly of the opinion that we are all one, and should conduct ourselves as such — respectfully and congenially, but with healthy boundaries, too.