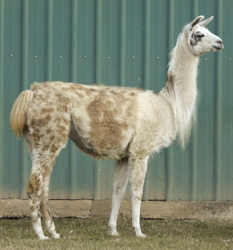 Lost Creek Harlequinn
ILR # 294102
female b. 7-19-2020
click on the photo to see more pictures of Harlequinn on ipernity
Harlequinn is just a whole lot of fun! She gets her people-person disposition from dad and her crazy energetic antics from mom. And of course she has an amazing paint job. None of that helps carry a pack, but as has been pointed out, it costs the same to feed a pretty (or friendly) llama as a plain (or grumpy) one.
We bred Harlequinn to be a packer, and she shows all the necessaryphysical traits of a strong sound body and high energy. What Harlequinn didn't get was the Classic coat we strive for in our own breeding stock — in fact, she is her sire's woolliest offspring by far ... which we did not expect, especially not from Miranda. As such, we won't be retaining Harlequinn for our breeding program.
From Harlequinn's perspective, as long as she has people in her life, room to zoom, and a confident llama friend, she's a happy camper — she would be just as happy in a pet-companion or 4H home. Because Harlequinn has good packing potential, we will get her started on her packing-specific skill lessons as she becomes ready for them.
We are most likely to retain Harlequinn until 2023 or 2024 for further training and maturity so we can ensure her future success, but we might match Harlequinn with a qualified person or family from our waiting pool whose needs best mesh with her personality and preferences.
Harlequinn looked like a harlequin from the moment she was born — a clown in an appropriate outfit! It turns out that the name "Harlequin" (with a single "n") is a protected name in the registry, so the registrar appended a second "n" and we've left it that way as the best possible solution.