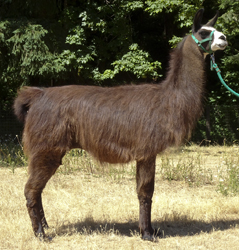 Lost Creek Ranger Ouray
ILR # 293737
male b. 07-16-2019
Eagles' Nest" Americus ("Bull") x Lost Creek Ranger Ceilidh
click on the photo to see more pictures of Ouray on ipernity
Ouray is proving to be energetic when circumstances permit, yet able to both contain that exuberance when appropriate AND discern when "appropriate" is. A real level-headed guy!
Ouray has the "power butt" muscling that we value so highly coming from both grandsires Ranger Dusty and Gold'n Hawk; he also has many other outstanding physical attributes inherited from both, as well as arrow-straight movement and stance. At this point we expect his Classic coat to be mid-length like his mom, but time will tell.
We're retaining Ouray as a stud prospect for the next generation of our own breeding program.
"Ouray" is a native (Ute) word meaning "arrow", best known as the name of a chief who continually sought peace with the whites. There's also a town named Ouray in Colorado, but the pronuniation is different (OO-ray for our guy and the Native American; YOO-ray for the town). Our Ouray is straight as an arrow, and he's definitely a peaceable sort.