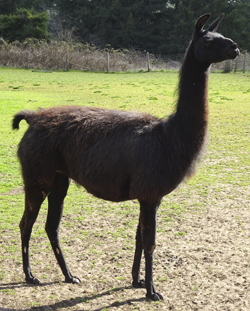 Slate Peak's Aurora
ILR # 293942
female b. 04.05.2013
Slate Peak x Teton Moon
click on the photo to see more pictures of Aurora on ipernity
Aurora is an awesome standard-coat Classic llama from proven packing lines. She is here at Lost Creek Llamas on an open-ended breeding lease exchange with Rattlesnake Ridge Ranch, who will enjoy the company and progeny of Lost Creek Klahowya for the duration.
Despite Aurora's hands-off start in life (as best anyone can tell, by the time she was born, her herd was fending for itself), she is remarkably willing to alter her past assumptions and give humans a fair chance. Scott and Gayle Noga get endless kudos from us, first for rescuing Aurora and her extended family and nursing them back to health (with significant financial and emotional strain), and secondly for getting Aurora turned around from feral to handleable despite all of the other new and unhandled llamas in their care during the same timespan.
We are incredibly grateful for this opportunity to enjoy Aurora and to add her genetic contribution to our select pack llama breeding program. Aurora amazingly clears the "basic requirements" bar here with a lot of room to spare!
Gayle Noga saw her first aurora borealis — a very special experience — the night that Aurora (a very special llama) arrived in her new home ... and Aurora liked that name very much, so, there you have it!