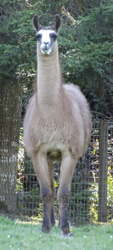 Lost Creek Carhartt
ILR # 291713
male b. 06-10-2018
click on the photo to see more pictures of Carhartt on ipernity
Carhartt reached a whopping 42.5" at the age of 10.5 months, and is closing in on 46" at 22 months! Carhartt has grit and determination coupled with exceptional energy, but he's also the type to engage his brain and be "the adult in the room" when that's the right thing to do.
Carhartt's immediate and extended family is full of working packers, including two PLTA MPL certified llamas. Carhartt's sire "Bull" has also produced a number of working packers and packers-in-training, and is greatly appreciated and admired for his easy disposition.
Carhartt is unrelated to the vast majority of female pack breeding stock in the US. Carhartt's strong and stable rear end, leggy phenotype, toughness, and above-average bone and muscle make him highly likely to produce improved offspring in any herd. Carhartt also brings his hightly sought-after standard Classic coat to the table.
If you are considering breeding your female to Carhartt, you can download an annotated copy of his ancestry HERE, and you can read our current stud service information HERE.
From the beginning, Carhartt emphatically chose Gwen as HIS human! We're working on broadening Carhartt's tastes in humans. Depending on whether we're successful at that, we'll either sell part ownership or breeding interest(s) ... because a once-in-a-lifetime male like Carhartt should have much more impact on the pack llama gene pool than we alone can provide.
He's "Carhartt brown", he's a working llama, and we could see he was tough from day one. It's a fit!