Class of 2002
(1998 crias)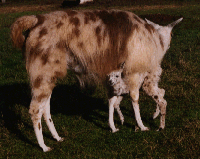 Please remember -- "cute" does not last until maturity, let alone the bulk of a 20+ year lifespan. With the short reign of "cute" comes a great, long-lasting responsibility of careful and effective habituation, training, and care. This responsibility, along with the responsibility of any breeder to produce a sound, useful, desireable animal is rarely if ever stated (let alone proportionately emphasized) by many, many others.
Because we rescue some of the llamas that were created by ignorance or blatent disregard for this serious responsibility (and see many more that we unfortunately can't possibly help), our few, carefully-bred crias are just as much a sobering experience as they are a welcome part of our lives.
Apikuni (at one day) negotiates the Kokanee obstacle. The problem with mothers is that they have all these legs . . .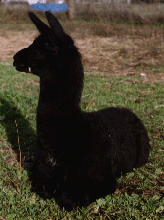 Any tool can be misused, but that does not make the tool itself a bad thing. Knowledgable selective breeding is the only means to maintenance and improvement of a domestic breed, including classic llamas. The fact that there are many who misuse llama propagation, breed for the wrong reasons, and breed without adequate knowledge does not make all llama breeding a bad thing. We try to do it right to the very best of our abilities, put the best interests of our animals first, and to limit our production.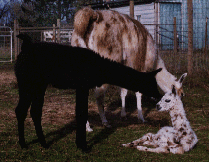 Because we will not breed immature females (which others commonly do in order to have more cute babies and, in the past, to recoup investments more quickly) and we will not breed any females who do not meet strict standards that ensure a desirable cria will result [click here to read more about our breeding program], we have produced less than 1/5th of the crias that would have been born on virtually any other farm. (If we did not own our females, someone else would -- and that someone else would have bred them young and continually. This means that, as of 1998, we are directly responsible for 41 fewer llamas -- that's more than the total of all the llamas we've ever owned!)
Kilchis meets a very relaxed Apikuni for the first time while Kokanee grazes in the background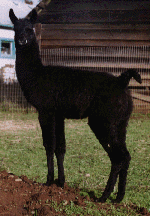 The overall quality of our few cria has been high, and demand for Ranger Dusty's offspring, carefully raised and trained with a great deal of individual attention from us, is more than adequate to place each and every one of the few we have bred and choose to part with. In that light, although we originally eliminated cria pictures from our site in reaction to some others' overemphasis on "cute-cute-cute -- wouldn't you like to make some, too?" and underemphasis (if any mention) of the grave responsibilities, we finally decided that it is a shame to overreact in the other direction and not share them at all. So here they are -- enjoy!
Kilchis has found the mound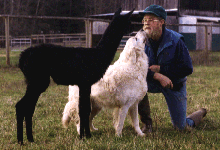 . . .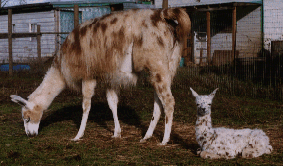 Kilchis's self-appointed guardian is Spukanee; Apikuni prefers Kokanee's protection for now.

A rare sunny day in December is never wasted.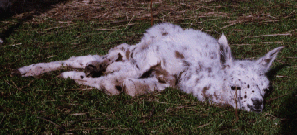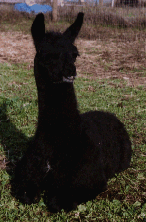 . . . . . . . . . . . .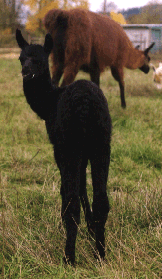 If you knew you were really cute and had a knockout body on top of it, you might look this smug, too. Let the humans do the worrying!
---
Why are these 1998 babies referred to as "The Class of 2002"?
Llamas need a long period within a normal herd social structure for their mental health and normal development. This need extends long past weaning.
The "teenage" period (12-18 months through three years) is when most human-llama interaction problems erupt.
Llamas are not physically mature enough to start light work without unusual risk until three to three-and-a-half years of age. This means it is not be possible to determine with certainty what an individual llama will be truly suited to until he or she is four or older, and proving whether a llama qualifies for the elite status of breeding quality cannot be completed until that at least that time, if not later.
Female llamas should not be bred before they are close to full physical maturity (three years) for their own continued health and soundness, and for the protection of the gene pool, they should be spayed if they do not turn out to be breeding quality.
Firstborn crias will be stunted to some degree unless their mothers were not bred until after full physical maturity -- at least four years of age.
Male llamas have evolved for millenia with a significant period (2-4 years) of socially-enforced abstinence after sexual maturity (which is at 12-24 months). They develop handling and attention problems -- from subtle to severe -- if allowed to breed before gaining the learned benefits of this period.
As we've gotten to know llamas and their normal social structure, we've realized that our responsibilities are far from over when crias are weaned at 5-8 months. We've also come to realize that buyers (even long-time llama owners and breeders) often don't have adequate knowledge about training, socialization, appropriate working and breeding ages, and determining whether a llama is really breeding quality or not --nor are they aware of this void -- and this has become more and more apparent as we repeatedly encounter the resulting problems through our rehabilitation work.
It wasn't long before we realized that we could not safely (and thus, ethically) sell any llamas until trained and fully mature. So if we chose to part with these 1998 crias, it will only be after they turn four years old and have graduated from their courses in Being a Llama, Responsibilities of the Human-Llama Partnership, How to Enhance Outstanding Packing Performance with Helpful Behavior, and, of course, any non-reproductive electives they show an interest in, usually Single-Hitch Driving and All-Around Performance Showing.
---
meet The Class of 2003!
---
return to our llama family
return to Lost Creek Llamas homepage