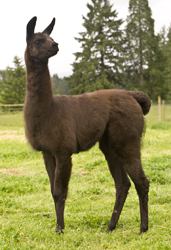 Lost Creek Ranger Gaiya
ILR # 285351
female b. 4-22-2012
click on the photo to see more pictures of Gaiya on ipernity
It used to be that everybody was Gaiya's human, all wonderful and very interesting. Unfortunately, Gaiya's first placement taught her some things that we strive to never allow llamas to learn ... including that llamas can control humans ... so Gaiya no longer thinks humans are worth her respect or time.
Gaiya is definitely the most level-headed, naturally handleable llama born here to date. She inherited her sire Highlight's lightness and athleticism, and grandsire Dusty's ultra-powerful rear end "engine." We would rate Gaiya's gaits as excellent; physically, she should be a natural in harness. Unfortunately, no llama is perfect, and at maturity, it became clear that Gaiya's coat is not truly classic — her neck sheds out, but her body does not shed annually with the marked seasonally synchronicity of the true classic phenotype.
Gaiya was a much-loved member of our llama family, and we eagerly anticipated adding her to our breeding herd. We found what we believed to be the perfect stud match for Gaiya, and were extremely disappointed to discover she has a cervical defect, making successful reproduction not only unlikely, but potentially lifethreatening should conception manage to occur.
Gaiya is an exquisite gem; we had planned to keep her and enjoy her, but when we thought we also had her perfect human partner in our waiting pool, we placed her, being led to believe that Gaiya would receive substantially more attention and adventure opportunities from that match than if she remained here. We were wrong; Gaiya returned a year later with some very bad habits. We're currently working to reinstate Gaiya's previous work ethic, sense of responsibility, and cooperation, and so far she is getting with the program — she knows WE know what we are doing even if OTHER two-leggeds are easy targets.
Once we're sure Gaiya is totally back on track, we'll consider another placement for her, but ONLY with someone who has a great deal of llama savvy or equine experience already. Gaiya's high intelligence combined with her recent stint of inept handling means she will read newbies like a book and show them a thing or a dozen about the realities of thinking another living being has been programmed to serve them with no further effort on their part.
Gaiya was born on Earth Day (for what that's worth — we're normally uncomfortable with names referencing something as arbitrary as a particular day on the western calendar). However, Gaiya is certainly of the opinion that we are all one, and should conduct ourselves as such — respectfully and congenially, but with healthy boundaries, too.