Just for fun . . .

It takes a lot of hind leg strength and ingenuity to trim the trees above llama-reach. Bill's pretty glad that he's among a minority here who possess the talent and are so inclined.

Ranger Dusty: Nothing like a cool Coke Classic on a hot day at the show!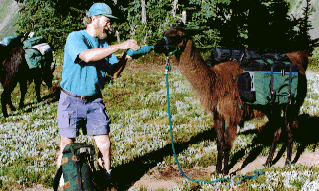 Sahalie has her own opinions about beverages and when to drink them. She only "does" water, and here at the top of Rock Pass along the PCNST in Washington's Pasayten Wilderness is an outstanding example of a good spot.

We don't think it's very nice for a llama to play dead. Hawk doesn't think it's very nice for us to wake him up!

Ha ha! (Jim and Spiritus)
(photo by Ann Van Camp and courtesy of Janie Clausen)

As you can see, this really isn't very practical--but Ranger Dusty can carry Gwen (140 pounds give or take a few) in an emergency. This is not a bad precaution, because Gwen and Dusty often are the only members of their "hiking party." Dusty actually thinks it is a privilege. Good thing for him that he's among those llamas who are structured to withstand this "privilege" without sustaining damage--otherwise he wouldn't be allowed to "partake"!

(photo by Lisa Wolf)

Ahhhh . . .

Dusty and Sahalie take an afternoon rest break at Shaw Creek, PCNST, Pasayten Wilderness, WA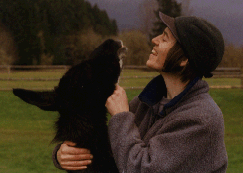 Logan and Gwen vying for the honor of "Highest Nose In The Air." Gwen may be winning in this photo, but Logan grew . . .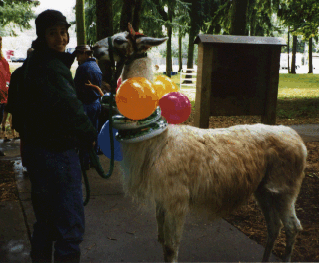 We gave Waldo a "party" for his nineteenth birthday at the ELUG (Emerald Llama User's Group) Fall Funday. Waldo thought the human practice of embarrassing birthday people with attention was pretty dumb, and dressing up llamas was even dumber. Waldo sure was glad he only had one birthday a year!
---
Return to Lost Creek Llamas home page