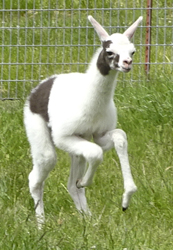 Lost Creek Ranger Lightfoot
ILR # pending
male b. 05-09-2021
click on the photo to see more pictures of Lightfoot on ipernity
Lightfoot arrived somewhat undercooked (the first time we've had that happen), but after a few days of around the clock care from us, you'd never guess that. Lightfoot has no favorite human — we were both there when he needed us, and he remembers that.
Lightfoot has the highly-desirable standard Classic coat, endless energy, and a very active and logical mind. We are enjoying his enthusiastic take on life — moreso after the effort and energy we invested in him initially when we were unsure what the outcome would be.
We are expecting Lightfoot to mature into a fine packer and friend. If we decide he is breeding quality, we will definitely retain him ... and we may keep him anyway because we are still without a suitable trainer/mentor gelding.
Lightfoot is one runnin' dude; if you ever see him race around the pasture, you'll know where his name comes from. :-)