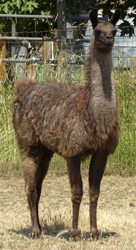 Rattlesnake Ridge Pepperfaire
ILR # 296426
female b. 05-25-2022
King Asher's Legado x Maryfaire
click on the photo to see more pictures of Pepper on ipernity
We are always looking for the occasional outcross Classic llama to enhance our own herd's largely outcross genetic resources. Knowing that Gayle Noga would never part with stunning Maryfaire and also knowing that Legado ("Legs") represented several generations of proven packers in additiona to being a fine packer himself with an excellent Classic coat and superior working gaits, Gwen mentioned that we would be interested in the result (either sex) from a pairing between "Legs" and Maryfaire.
Later, DNA test results showed that Takoda Peak was a son of Legs, not Slate Peak as was originally believed. For that reason, we were extra-pleased that Maryfaire's 2022 baby was female!
Pepper will be joining us sometime after she's weaned. We enjoy the occasional photos and updates to tide us over until we get to know her in person.
Peppercorn, an outstanding go-getter pack llama of considerably intellegence, was Pepper's great-grand sire; Maryfaire is her dam. Hence, Pepperfaire. All of that was actually reverse-engineered form early photos, which inspired the name "Pepper".