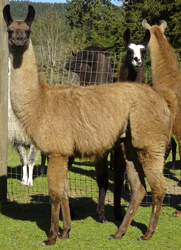 Lost Creek Skookum
ILR # 273738
gelding b. 07-16-2019
Eagles' Nest" Americus ("Bull") x Lost Creek Sagehopper
click on the photo to see more pictures of Skookum on ipernity
Skookum is a straight-and-square, energetic, agile and well-muscled fellow with the highly desireable standard classic coat. Skookum has all the boxes checked to be an outstanding packer. Skookum hit 43.75" at age two; based on our extensive data, we feel he is likely to reach 46" +/- at maturity.
Skookum's maternal grandsire Lost Creek Credo and Credo's sire Sky Rocket both earned PLTA MPL certification; Skookum's paternal grandsire Gold'n Hawk was one completion short of his PLTA MPL when he passed away. Skookum's maternal grandmother's half-brother Rocky Mountain Highlight was also PLTA MPL certified. Additionally, numerous full and half-sibs to granddad Lost Creek Credo, both male and female, are currently working packers throughout the western states. Packing talent runs far, wide, and deep in Skookum's genes!
Because we already have a tremendously high-quality 3/4 sib in Lost Creek Carhartt, Skookum was gelded in early Febrary, 2021. Now that he's been relieved of his testosterone, Skookum has become a very chill fella, although his perspective that humans need to earn his trust persists. We have every expectation that "Skook" will become a top-shelf pack llama, especially with his initial training coming under the tutelage of grampa Credo.
We plan to retain Skookum for further training and maturity so we can ensure his future success, but we might be persuaded to match Skookum with a qualified person or family whose needs best mesh with his personality and packing potential.
Skookum (accent on the first syllable, ie, SKOO-kum) is a Chinook word meaning strong or powerful. There's no doubt that our Skookum is both strong and powerful!

Please don't put the accent on the second syllable ... that changes the meaning in a very bad way. ;-)