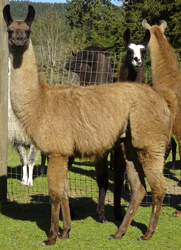 Lost Creek Skookum
ILR # pending
male b. 07-16-2019
Eagles' Nest" Americus ("Bull") x Lost Creek Sagehopper
click on the photo to see more pictures of Skookum on ipernity
Skookum is a near-clone of his older full brother Lost Creek Dunc'n Hawk — big-boned, muscley, and powerful with a jaw-dropping natural trot. He's not just born and bred for packing — his skill set BEGS to be driven!
Like Dunc'n, Skookum appears to have a mid-length classic coat, and he has a 50% chance of homozygosity for the Classic phenotype.
Skookum and his full sib Dunc'n have more ancestry with PLTA MPL credentials than any other llama, anywhere, period. Skookum's maternal grandsire Lost Creek Credo and his sire Sky Rocket both earned PLTA MPL certification; Skookum's paternal grandsire Gold'n Hawk was one completion short of his PLTA MPL when he passed away. Skookum's maternal grandmother's half-brother Rocky Mountain Highlight is also PLTA MPL certified. Additionally, numerous full and half-sibs to granddad Lost Creek Credo, both male and female, are currently working packers. Proof of Skookum's packing talent runs far, wide, and deep!
Because we already have Dunc'n, it's highly unlikely that we'll need to hang on to Skookum for our breeding program. We'll wait a few more years to either confirm he is stud quality or castrate him if he's not, at which point we expect to make Skookum available to the person on our waiting list whose needs mesh with Skookum's packing and harness talents, and who is also a good fit for Skookum's personality.
Skookum (accent on the first syllable) is a Chinook word meaning strong or powerful. There's no doubt that our Skookum is both strong and powerful!