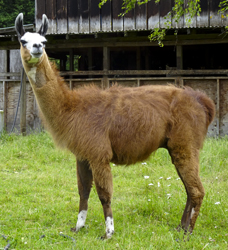 Lost Creek Ranger Cynamon
ILR # 291711
gelding b. 05.31.2018
click on the photo to see more pictures of Cynamon on ipernity
Cynamon is both sensible and highly interactive; he has energy and enthusiasm with innate self-control. Cynamon is also notably active and athletic. His conformation, balance, bone and strength are totally on the mark. His true Classic coat is close to perfection for the breed type. And if llama disposition and attitude could be ordered up, we'd definitely want all of our babies to be just like Cynamon! He reminds us in many ways of his beloved grandsires Ranger Dusty and Gold'n Hawk.
Unfortunately, Cynamon's adult size will be significantly below his genetic potential. His birth size was compromised due to his dam developing two molar abscesses late in Cynamon's gestation. We're projecting Cynamon will mature around 42" at the withers, give or take.
Cynamon is currently expand his packing-specific skillset, and is already a fun trail companion. He will be a fine trail partner for someone when he's old enough to carry weight, especially for a human who is also height-challenged. Cynamon isn't going to be suitable for packing out any elk, but he's a perfect fit for minimalist folks who really enjoy the backcountry and especially those who find that getting loaded panniers onto the super-sized llamas is just as impossible as getting panniers onto equines!
Cynamon's natural charisma and interactivity makes him well suited to the range of activities in the public outreach and therapy realms. His stout and muscular build, steady disposition, and moderate stature make Cynamon a good harness prospect as well.
We hoped Cynamon could fill the role of young llama mentor for us, but he's showing us that's not going to be his "thing", so we don't get to keep him. However, we're going to lean on him to entertain (and discipline) Takoda, who will need an active and older pasturemate until mid-2022 or later ... which is exactly when Cynamon will be physically ready to carry a useful amount of weight.
If you are interested in Cynamon as your future llama partner, contact us!
"Cynamon" is the Polish spelling of Cinnamon ... giving an uncommon fellow an uncommon version of this very apt name inspired by his coloration.