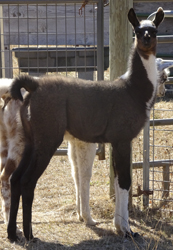 Lost Creek Toya'ana
ILR # 294133
female b. 08-02-2020
click on the photo to see more pictures of Toya'ana on ipernity
Toya'ana is a brainy and bouncy young llama, very obviously related to her aunt Fiona.
Toya'ana is everything we bred her to be — standard Classic coat, level-headed, energetic with self-control, and a top-notch body for packing. And much more! We are very excited to be able to retain her for our breeding program, and to later enjoy her talents and company on the trail.
Toya'ana means mountain peak in the Shoshone language.