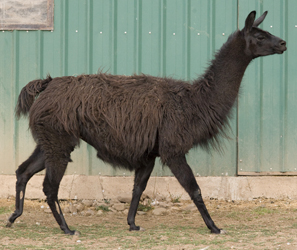 Lost Creek Ranger Tokatee
ILR # 266908
female b. 11-19-2004
click on the photo to see more pictures of Tokatee on ipernity
Pure poetry in motion, Tokatee matured at 44.5" and tends to run right around 300 pounds.
We were both taken with Tokatee's elegance from the beginning; she has matured to be an excellent working adult llama and supermom who also happens to be beautiful. Tokatee has made it VERY clear that SHE chooses Gwen. Tokatee is not for sale at any price, ever.
Tokatee shows excellent traits from both parents — exceptional build and gaits for harness work and packing, and a super-combing sparse classic coat to boot. Just like her dad, Ranger Dusty, she places at the bottom end of halter classes in the showring. Based on long experience having our duds-at-real-work getting the most purple ribbons, we figure Tokatee's bottom placings are actually a high compliment to her working physique.
Tokatee likes being scratched and rubbed, and — at age 14! — she finally decided that grain, pellets and llama cookies are both edible AND desireable treats. Tokatee enjoys the company of her half-sister Cricket (mostly because Gwen includes both in play and grooming sessions), and also likes to spend time snuggling with Gwen, or just standing with her.
Remember, NEVER FOR SALE. Don't even think of asking. Because Gwen will spit on you!
"Tokatee" is Chinook for pretty, beautiful, or graceful, and indeed, she is exceptionally so! For instance, few llamas can make loading into a van look as smooth and gliding as Tokatee does.
Tokatee's offspring: