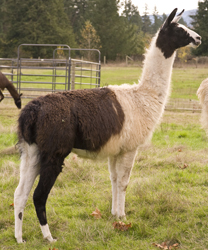 Lost Creek Ranger Scioty
ILR # 287655
male b. 5-9-2013
click on the photo to see more pictures of Scioty on ipernity
Scioty is just as calm, intelligent, and delightful as his year-older full sister, Gaiya, and although he is not as innately extroverted as she is, Scioty is definitely inclined to work with humans rather than avoid them. Jim has claimed Scioty as his partner.
Scioty has inherited his sire's athleticism and his dam's excellent standard-length Classic coat (the real-deal, sheds-with-just-a-slicker-brush kind!), and superior muscling from both parents. We also see much of grandsire Ranger Dusty in his overall quality and demeanor — Scioty has the same balanced physique and attitude that would cause this exceptional total package of a working llama to fly completely unnoticed below everyone else's radar ... if it weren't for his eye-catching "paint job" (which contributes absolutely nothing to Scioty's working ability, but that's human nature for ya).
Scioty will remain here as a packer and is most definitely on track for becoming one of our "inner circle" (no outside breedings) Classic pack studs. Although we'd prefer he had inherited sister Gaiya's perfect harness gaits, everything else is above criticism (even from us!), and we know Scioty carries the recessive genetic instructions for true trotting.
We are really looking forward to enjoying Scioty's partnership on the trail. We're already enjoying his level-headed perspectives here on the farm. Scioty has appointed himself "pasture police" and generally puts a quick stop to all unfair aggression within our main male/gelding group; he also monitors play sessions to be sure they don't turn ugly.
Scioty (say "sigh-OH-tee") refers to a favorite old-time instrumental (dance) tune, Big Scioty (which in turn was named for the Sciota river in Ohio).